A tragic story
has been reported in the L.A. Times
. Two teenagers were injured, one badly, at Thousand Oaks school, when a rocket exploded.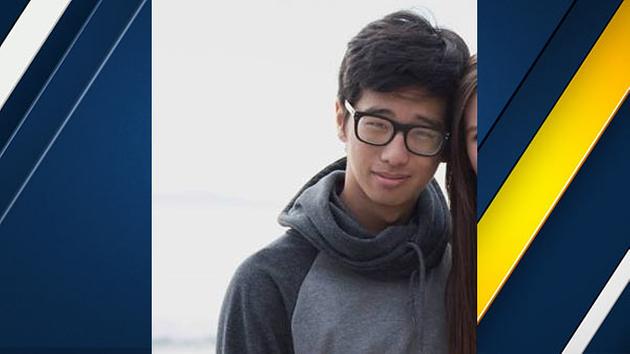 Bernard Moon. Image from the local ABC affiliate.
Update
: One student, 18-year-old Bernard Moon, was critically injured, and has since died. News coverage has been heartbreaking, and the kids at this school are very shaken up by the incident.
* * *
However
, the news report also refers to this as a "model rocket" accident.
I am terribly sorry that this accident has occurred, but I want to make something clear - this was
not
a "model rocket."
The two were "using a small propane cylinder to make a model rocket."
It's unclear whether they were trying to use propane as propellant, or whether they were trying to use a propane cylinder they thought was empty as the rocket body. Either way, this is in violation of the National Association of Rocketry
Model Rocket Safety Code
.
1. Materials - I will use only lightweight, non-metal parts for the nose, body, and fins of my rocket.

2. Motors - I will use only certified, commercially-made model rocket motors, and will not tamper with these motors or use them for any purposes except those recommended by the manufacturer.
What happened here appears to hearken back to the early days of home-made amateur rockets, before model rockets became available to the general public. This is October Sky stuff. And as much as we model rocketeers love the movie, and
Rocket Boys
, the book upon which it is based,
this is dangerous stuff
. Kids lost fingers, eyes, and sometimes lives doing this stuff. In the book, Sonny's mother tells him over and over, "Don't blow yourself up."
She had reason to worry.
That is part of why I write this blog. I'm trying, in my small way, to make people aware of model rocketry as a hobby, how to do it, and how to do it safely. This is a niche hobby - a strong, growing hobby - but one which is practically unknown outside those who practice it.
In the 1960s, 70s, and 80s, model rocketry had a much higher public profile. Today, people have kind of forgotten it exists. Outreach from model rocketeers to spread the fun, the educational benefits - and the safe practices - of model rocketry to a wider audience is important. It's important to grow the hobby, so it can be here for us to enjoy for a long time.
But it's also important for another reason. Sometimes, someone unacquainted with the NAR or model rocketry in general gets the idea,
I'd like to build a rocket!
And they may turn to the Internet for information.
And there's some not-so-great information out there. There is some
dangerous
information, often put out there by people who have simply been lucky enough not to blow themselves up yet.
Spreading the hobby means that those who develop an interest in "building a rocket" are more likely to know that there are reliable, legal,
safe
resources out there for them to work with.
And if model rocketry has a higher public awareness, the news media, who can't be expected to keep up to date on every obscure hobby out there, would be less likely to report incidents like this as a "model rocket" accident.
And
that
is important because we don't want people unfamiliar with the hobby - citizens, law enforcement, legislators - to think that this is a crazy hobby practiced by crazy people, and that it should be outlawed.
In my job and in life, I often come in contact with people of influence. Not as much here in Boston as I did back in Bloomington, Indiana. But I still do sometimes. And whenever I get a chance, I chat a little about my interest in model rocketry. Maybe that person will develop an interest. Maybe they have kids, and
that
will get them interested. Maybe they'd just like to check this thing out.
I've talked with - and shown my blog and some of my YouTube videos to - police officers, firefighters, teachers, business owners and even a Deputy Mayor. You'd be surprised who finds the conversation interesting, and who wants to know more.
Keep building and flying - safely. And share this hobby with others.
Update #2:
A
new report
states that authorities are making it clear that this was not a store-bought hobby rocket.
Like my Facebook page for blog updates and extra stuff.
Follow me on Twitter.